Carnival Conquest
Entertainment

Bars, Clubs & Lounges

Casino & Gambling

Spa

Sports & Fitness

Shops

Leisure

Enrichment

Kids & Families

Camp Ocean

Circle "C"

Club O2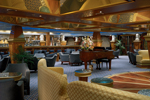 Lounges & Bars
Intimate Lounge
Impressions Bar
Gauguin's Bar
Alchemy Bar
Pool Bar
Red Frog Rum Bar
Blue Iguana Tequila Bar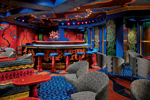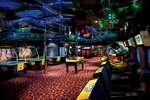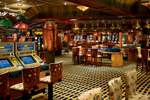 Tahiti Casino - Deck 5
Over 190 Slot Machines
17 Gaming Tables: Blackjack, Caribbean Stud Poker, 3 Card Poker, Let it Ride, Roulette, Craps and Texas Hold'em
Tournaments: Black Jack and Slots
Currencies accepted: U.S. Currency and Sail & Sign® accounts
Card and game lessons (vary by itinerary)
Cassat Room: card room
Casino is closed on port days.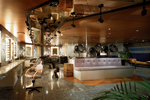 Spa Carnival® - Deck 11
2 Steam rooms (men/women)
2 Saunas (men/women)
Beauty Salon
Wide variety of body treatments
Additional charge for spa and salon services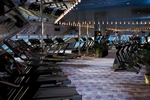 Fitness
Fitness Center: features state-of-the-art exercise equipment
Exercise Classes: Various classes including aerobics, Yoga, Pilates, Resistance training, spinning, and more. Exercise programs vary by ship itinerary (additional fee for some classes)
Padded jogging track
Personal Training (additional fee)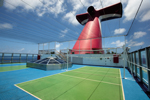 Sports
Basketball & Volleyball Court
Shuffleboard
City Sports Park mini-golf course: 9 hole course
Ping Pong Tables (2)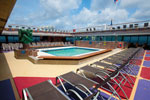 Pools
Kids Wading Pool
The Stars Pool - salt water pool and 1 whirlpool
The Sky Pool - salt water pool and 2 whirlpools
The Sun Pool - salt water pool and 2 whirlpools
Carnival's Twister Waterslide - its spiral is three-decks high!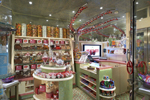 The Fun Shops
Logo clothing, souvenirs, clothing, jewelry, perfume, liquor and sundries
The Photo Gallery - photos and fun ship films video services
Pissarro Art Gallery
Cherry on Top - the perfect place to pick up sweet treats and more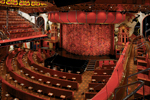 Shows
Toulouse Lautrec Main Lounge
Carnival Seaside Theater
Playlist Productions
The Punchliner Comedy Club presented by George Lopez
Broadway Musicals
Carnival LIVE (Select sailings)
Vocalist Shows
Dance Shows
Parties and Theme Nights
Deck parties are cruise specific based on destination or itinerary
Pool parties
Past Guest Reception: offered on cruises 5 days or longer
Late Night Deck Party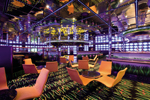 Music & Dance
Dance Classes
Superstar Live Karaoke - on cruises of 7 days or longer
Live Bands
DJs
Contest & Tournaments
Backgammon Tournament
Bridge and Card games
Bingo
Trivia games
Scavenger Hunt
Lido Deck and Pool Games
Couples and Lovers Game
Battle of the Sexes
Hasbro - The Game Show
Games vary at the discretion of the Cruise Director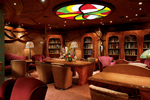 Other Features
Art Auctions
Shore excursions briefings
Internet Cafe
Port preview lectures
Painters' Library
Laser Tag - cost $5 per person (price subject to change)
"Behind the Fun" - guided tour of the shipboard operations - cost $95 per person - limited to 15 guests per tour
Golf lessons
Health and Wellness instructors
Dance Lessons
Wine Tastings
Family Activities
What is a vacation without a little family game time? Carnival Cruises wants to promote fun- filled vacations for the whole family by offering a selection of family activities.
Family Welcome Aboard Parties
Ice Cream Eating Contests
Kids Talent Show
Family Scavenger Hunt
Family Arts and Crafts
Family Name that Tune
Family Karaoke
Cookie Decorating
Teddy Bear Workshop
Family Water Wars
Seuss @ Sea and Seussa-Palooza - timeless stories of Dr. Seuss come to life with special onboard character parade, interactive story time, and arts & crafts activities.
Green Eggs & Ham Breakfast - This breakfast is part meal and part journey into the whimsical world of Dr. Seuss - fun for the whole family! (Extra fee of $5 per adult or child - subject to change)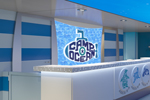 Camp Ocean activities span across 11 key categories of play, including core themes of active play, games, free play, arts and crafts and digital, coupled with additional categories such as role play, music, party time, science and discovery, social and food fun, all designed to find the ideal combination of activities catering to children's varied interests. More than 200 new ocean-inspired activities will range from educational games to creative arts opportunities such as Design Your Own Aquarium, Sea Salt Art and Create a Penguin from Oreos. Examples of Activities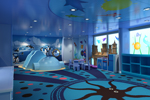 Penguins (Ages 2 to 5)
Paper bag whale creation
Musical icebergs
Sea creature aerobics
Ocean bingo
Ocean songs sing-along
Penguin Palooza: Oreo Penguin Making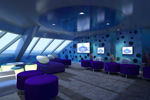 Stingrays (Ages 6 to 8)
Design your own aquarium
Fish, fish, Shark Catch
Seashell Arts & Crafts
Ocean Artifacts Memory Game
Pirate Game Night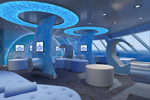 Sharks (Ages 9 to 11)
Design your own cruise ship
Giant ocean wall mural
Shark Art
Inner tube relay
Ocean Origami
The Badge Challenge
The Badge Challenge will provide the opportunity for kids to earn and collect badges as a special memento of their cruise. Badge challenges will include a variety of unique activities that provide an original way for kids to learn about their vessel, experience onboard adventures and gain a sense of accomplishment. After completing tasks which may include trying a new food, making an aquatic towel animal or riding the water slide, children will collect corresponding Camp Ocean badges. At the end of the cruise, there is a special ceremony with giveaways for the three age groups. Badges can be collected over multiple cruises.
Babysitting
Camp Ocean Night Owls offers babysitting for children 6 months to 11 years in the Camp Ocean playroom, allowing parents time to enjoy the nightlife without having to worry about their little ones. This service offers a "slumber party" atmosphere for your children with movie time, cartoons and room service snacks.
Each evening 10 PM to 1 AM
$6.75 per hour plus a 15% gratuity, per child
Children sleep on pillows and blankets; cots are not provided.
For infants, Pack & Plays are available for usage.
Please Note: Carnival doesn't offer any in-cabin babysitting services.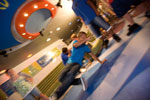 Circle "C" is the ultimate young teen program for kids ages 12 to 14 years of age. The facility features a dance floor with high-tech sound and lighting system, the latest in video gaming, and 42-inch plasma TV's that display movies and music videos. The Circle "C" program also offers a full schedule of activities and a chance for kids to meet up with people their own age in an inviting and vibrant lounge. A list of some of the activities offered follows:
Talent Show
Video gaming consoles
Dance Parties
Late Night Teen Hang
Late Night Movies
Video game tournaments
Scavenger Hunts
Karaoke
Sporting Activities - including dodge-ball, basketball, mini-golf
Carnival Twister Waterslide Races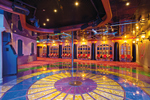 This unique club designed and dedicated for teens ages 15 to 17 years old, features its own teen director and special teen activities. The lounge offers a place for teens to hang out, meet new friends, listen to music, play video games or just chill out away from the parents. No kids or adults are allowed. Club O2 is a non-smoking and a non-alcohol lounge. A list of some of the activities offered follows:
Music World
Amazing Gaming
Lounge Life
Scavenger Hunts
Pool Functions
Sporting Events - volleyball, basketball, ping pong and more
Video Game Tournaments
Theme Parties: Hip-Hop night, Punk Rocker Night
Carnival Conquest Cruises