Azamara Pursuit
Entertainment

Bars, Clubs & Lounges

Casino & Gambling

Spa

Sports & Fitness

Shops

Leisure

Enrichment

Kids & Families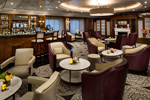 Lounges & Bars
Intimate Lounge
Discoveries Lounge
Spirits Bar
Sunset Bar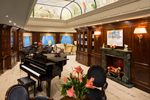 Music & Dancing
The Drawing Room
The Living Room
Cabaret Lounge
Azamara Pursuit does not have a casino.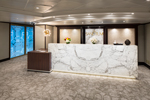 The Sanctum Spa
A wide variety of treatments from conventional to exotic
Hair Salon
Additional charge for spa treatments and use of the thalassotherapy pool.
Fitness
Fitness Center
State-of-the-art equipment including lifecycles, treadmills, stair masters, and more
Exercise Classes: Aerobics, Cardio Training, Resistance Training, Yoga Class or Body-sculpting. Classes vary by itinerary
Outdoor Jogging Track
Personal Training (additional fee)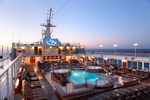 Le Boutique - fine jewelry and watches
Indulgences - perfumes, cosmetics, jewelry and liquors
Photo Gallery
The Pursuit Shop - logo wear apparel and sundries
Art Auction
Shows
Cabaret-style entertainment
Comedians and illusionists
Pianists
Parties and Theme Nights
Captain's Welcome Reception
Events and parties held on special occasions
White Night Parties
Contest & Tournaments
Bingo, trivia, charades
Darts and Ping-pong
Other Features
Library
Art Auctions
In Touch (internet cafe)
Nights In Private Places (additional fee)
Onboard wedding ceremonies
Complimentary self-service laundry, laundry and dry-cleaning service (additional fee)
Seminars and lectures
Port of call lectures and shore excursion seminars
AzAmazing Evenings
Wine tastings, culinary demonstrations
Enrichment program varies from theme and itinerary of the cruise and may vary with ship
While Azamara Club Cruises accepts children, they discourage families from sailing with children under 18 years of age, as the onboard ambiance and experience caters to adults and there are no activities for children or baby-sitting services available.
Azamara Pursuit Cruises